#StudentsofMI
Students of MI: Marwa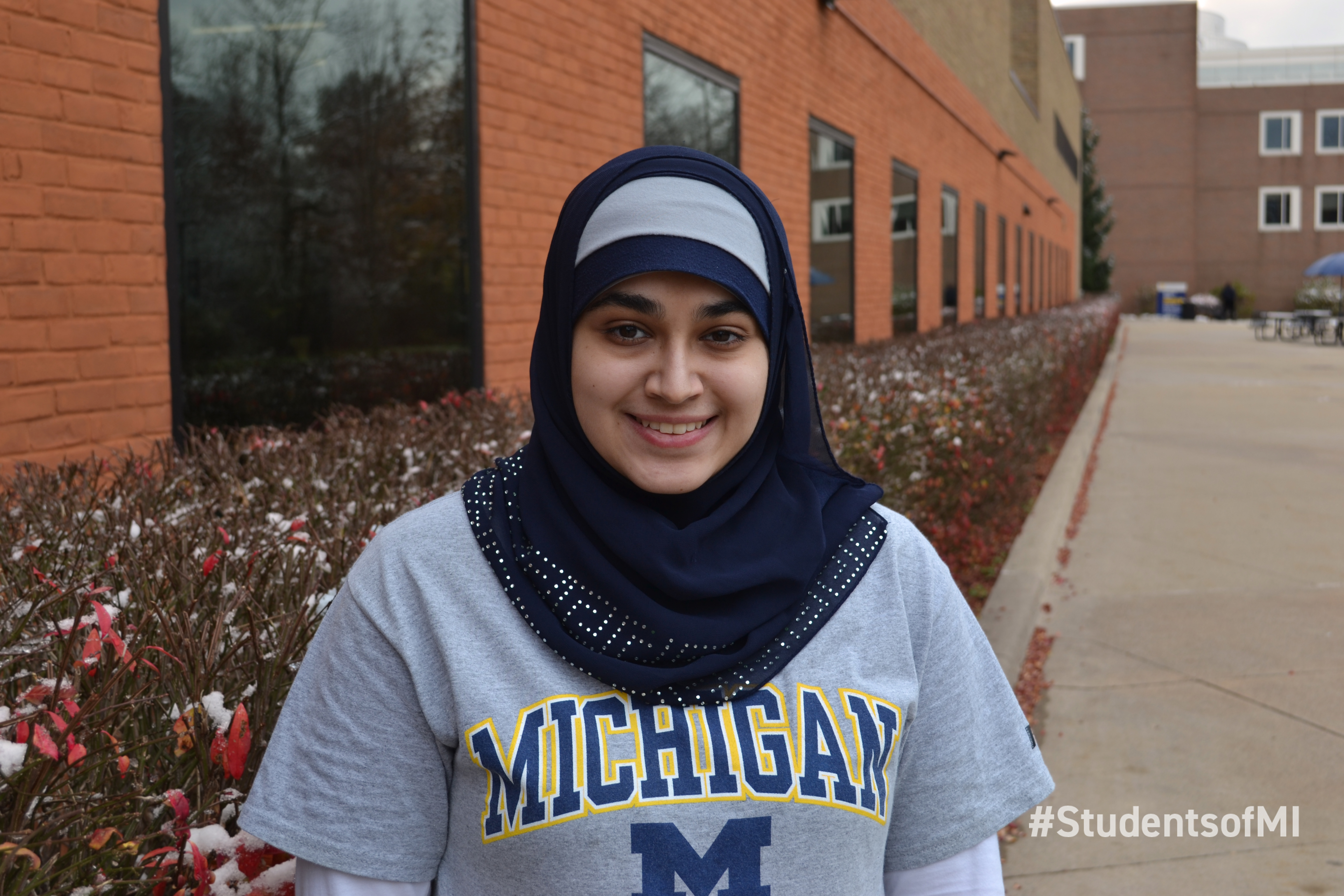 "I'm a U.S. citizen, but my parents are from Lebanon. I was born and raised in Dearborn, and when people think of Dearborn they think of people that look like me – a Muslim or Arab. When I came here, it was an eye-opening experience because of how inclusive University of Michigan–Dearborn really is. It's a true representation of what Michiganders are like, because we take pride in the differences that embody us.
I'm a third-year student studying software engineering. Math and physics were kind of my go-to subjects, so I decided I should take something I like and go with it. I never really knew how to code, but I figured why not give it a shot. Within three years, I loved it. One of my first classes was an introductory coding class, and I explained to my professor that I had never coded before. Within the first few weeks, I got the hang of it, and I felt encouraged to keep going.
The education here not only teaches you knowledge, but also teaches you how to gain social skills, talk to people, deal with new situations and open your mind to different frontiers in terms of thinking differently.
I was very surprised by how helpful everyone is. College always seemed scary — something you don't want to experience but have to, but I felt like I was meant to be here. The environment here made me feel so welcomed, because the students around me share my same goals and want me to succeed. It's nice to see that everyone is treated like family. That's something that really surprised me.
Something that really makes me feel at home here is my involvement in student government. I look up to everyone there, love the meetings and discussions, and as a group, we consider ourselves a family. Besides that, I try to be involved in a lot of things. I'm the secretary of our student government, the president of the Institute of Software Engineers and a member of the Opportunity Scholarship program.
I enjoy the leadership experience in student government because there are so many policy changes and things that we've brought to campus. It's really cool how a group of students can work together as the bridge between student life and the administration. It's really interesting to see that just us students can make change in our university to make student life better, or more enjoyable."
(Marwa, Software Engineering, University of Michigan-Dearborn)
BACK TO ALL NEWS