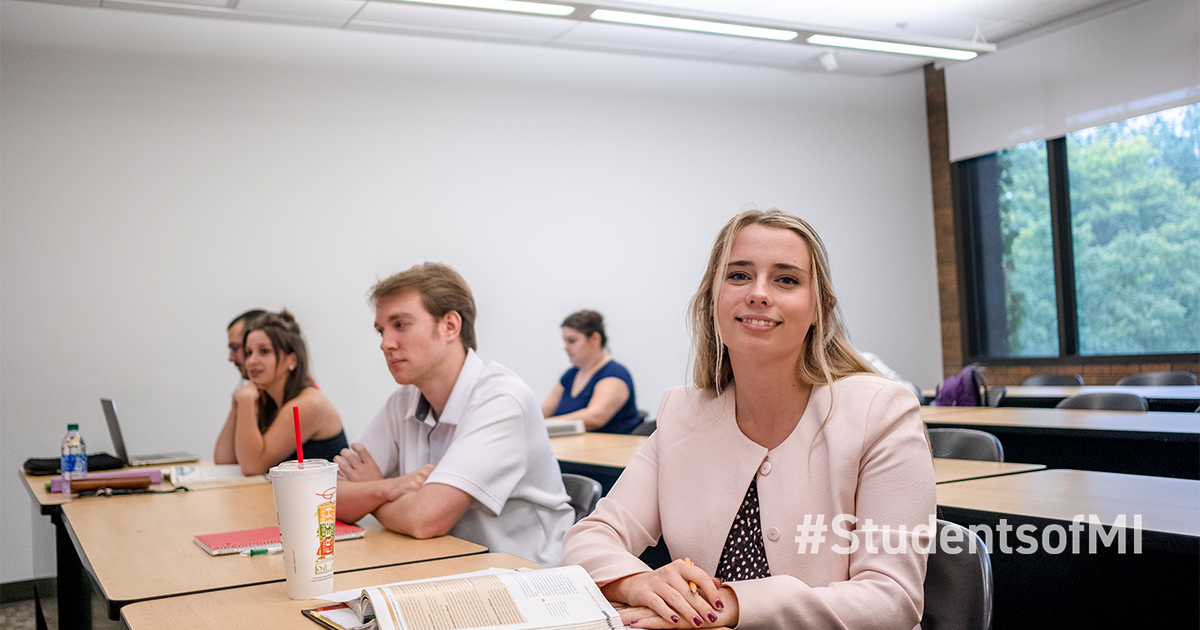 "I chose the University of Michigan Flint because it is close to home and is a well-known university that offers the same wonderful programs and opportunities as any larger university would. I feel I am getting the best of both worlds by staying local and still experiencing the larger university lifestyle.
One obstacle I have had to overcome to attend UM-Flint is working while going to school. I have to work to pay my rent and afford a car to commute. I'm able to do that because UM-Flint recognizes that many students are in that position and they want to see us succeed. Classes are often flexible and offered at several different times a day. Additionally, many online classes are offered which help accommodate working students like me. Once I talked to my advisors, I realized there were many options for the classes I need to take, and that it was possible to work around my busy schedule.
My career plans are to attend law school and become an attorney. I always felt that that was what I wanted to do, and I was lucky enough to meet an attorney who set me up with an internship at the Genesee County Prosecutor's Office. Upon working there for a little over a year, I've created enough connections that I was able to land a job at the U.S. Attorney's Office in Detroit in the Violent and Organized Crime Unit. Today, I love my job, and I get to learn from so many experienced attorneys on a daily basis. Because of these experiences, I know for sure that this is what I want to do with my career.
I have had several opportunities like this made available to me through UM-Flint. One of my professors put me in contact with a company that works in the Genesee County Jail. Because of this, I was able to work as a tether agent between the jail and the juvenile probation offices here in Flint. This was an amazing experience to have as a college student.
I also worked as a student patrol officer here on campus, working directly with the UM-Flint Police Department and learning even more about all aspects of the criminal justice system. I would not have been able to have these relevant career-related experiences without UM-Flint.
My advice to students is to help them make the most out of their university experience is talk with your professors! And I mean beyond simply asking questions in class. At UM-Flint, many classes are the ideal size where you are able to make real connections with your professors. They are here to help you, and they are highly qualified in their fields. In my experience, I have realized that I can learn a lot from my professors, and they are happy to guide you in the right direction. They want to see you succeed and will be cheering you on when you do."
(Mallory, Criminal Justice, University of Michigan-Flint)
BACK TO ALL NEWS