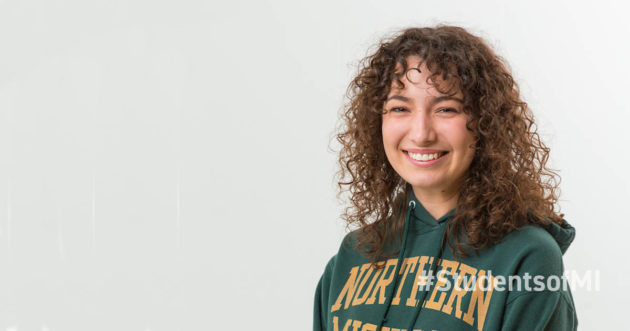 "I came to Northern Michigan University for the community. Northern has such an incredible community on campus between students and with faculty and staff. The professors here really care about the success of their students and are excited about the programs. You really can't beat this close-knit group of students.
I study history and love it because it gives me an opportunity to look at the past and connect it to the present. History is the story of the world, and everyone has a story that connects into the past. I get to study people, the environment, politics, philosophy and so much more all wrapped into one. It pushes me to learn more in my own life, step out of my comfortable worldview, and to understand alternate perspectives.
Reacting to the Past (RTTP) is such a great learning opportunity used by the history department. As a student, I had to become closer to the other students in the class, but it makes history come alive in a whole new way. It's different than a textbook, you have to know the emotions, personality, and arguments of the person you are. RTTP stretches you as a student but overall helps you learn in a much deeper way. I was then able to run a RTTP as a teaching assistant, which was so great to see students engage in the past and really grow as students of history.
I'm also a part of Chi Alpha Campus Ministries as a student leader, was a part of the Wildcat marching band for two years, and have been a teaching assistant for the history department.
The most rewarding part of my NMU experience has been the opportunity to study from professors who are very knowledgeable in their field. I changed my major part way through my college experience, which means I had the opportunity to study under two fantastic departments that really shaped my professional goals. I was given an opportunity to be a teaching assistant in the history department, which has given me hands-on-experience for teaching as well as given me many great mentors to guide my professional career.
I have too many favorite memories to count, but one of the best is taking a hike up Hogback. When you see the environment from that view, it shows how incredible of an opportunity we have to live here in Marquette. The academics, environment, and community combine to create a wholesome experience that has shaped me and helped me grow into who I am today."
(Kelsey, Northern Michigan University, History)
BACK TO ALL NEWS