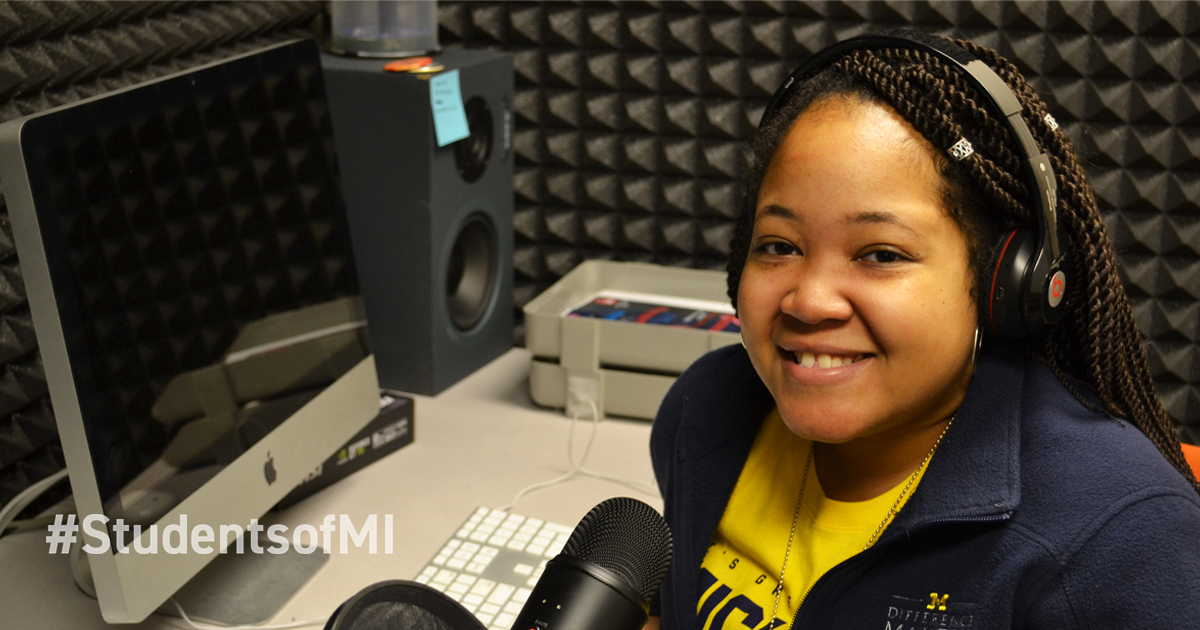 "The best way to enjoy your experience at the University of Michigan-Dearborn is to try new things. Get out of your comfort zone. Do something that you can't see yourself doing.
I'm currently a DJ for WUMD College Radio, which is something I never saw myself doing. I used to have a fear of talking in front of people, but the friends and faculty I met at UM-Dearborn broke me out of that shell by pushing me to try new experiences. I now host my own weekly show that plays everything jazz and know that I want to work in radio after graduation.
One of my favorite college memories was when our station put on a 24-hour livestream at UM-Dearborn's Student Union. We had different DJs playing music and chatting throughout the entire event. People even came to the Union to sit in and listen to the broadcast live. The college radio station had never done anything like that before, and it was so much fun.
Outside of my on-campus radio job, I'm a member of the Black Student Union. UM-Dearborn is a predominantly white institution, so the Black Student Union is a place I can go where everyone looks like me. Everyone there knows what it feels like to be the only person of color in a room.
The Black Student Union helped me connect with some other great organizations, like the Student Philanthropy Council and helped me bring my sorority, Zeta Phi Beta Sorority, Inc., to this campus. I'm also in the process of joining UM-Dearborn's chapter of the Public Relations Student Society of America.
To afford college, I've been relying on student loans. Luckily, I did earn the Opportunity Scholarship because of the area I grew up in. Through that scholarship program I met a big group of people before classes even started. They ended up becoming my first group of friends, which made the college transition a lot easier.
My advice to high school seniors would be to keep going and to consider attending college. Continue with some sort of learning. Pick up a new skill, find a hobby or even learn another language. Do something to keep your mind development going."
(Kaylin, Communications, University of Michigan-Dearborn)
BACK TO ALL NEWS