#StudentsofMI
Students of MI: Indigo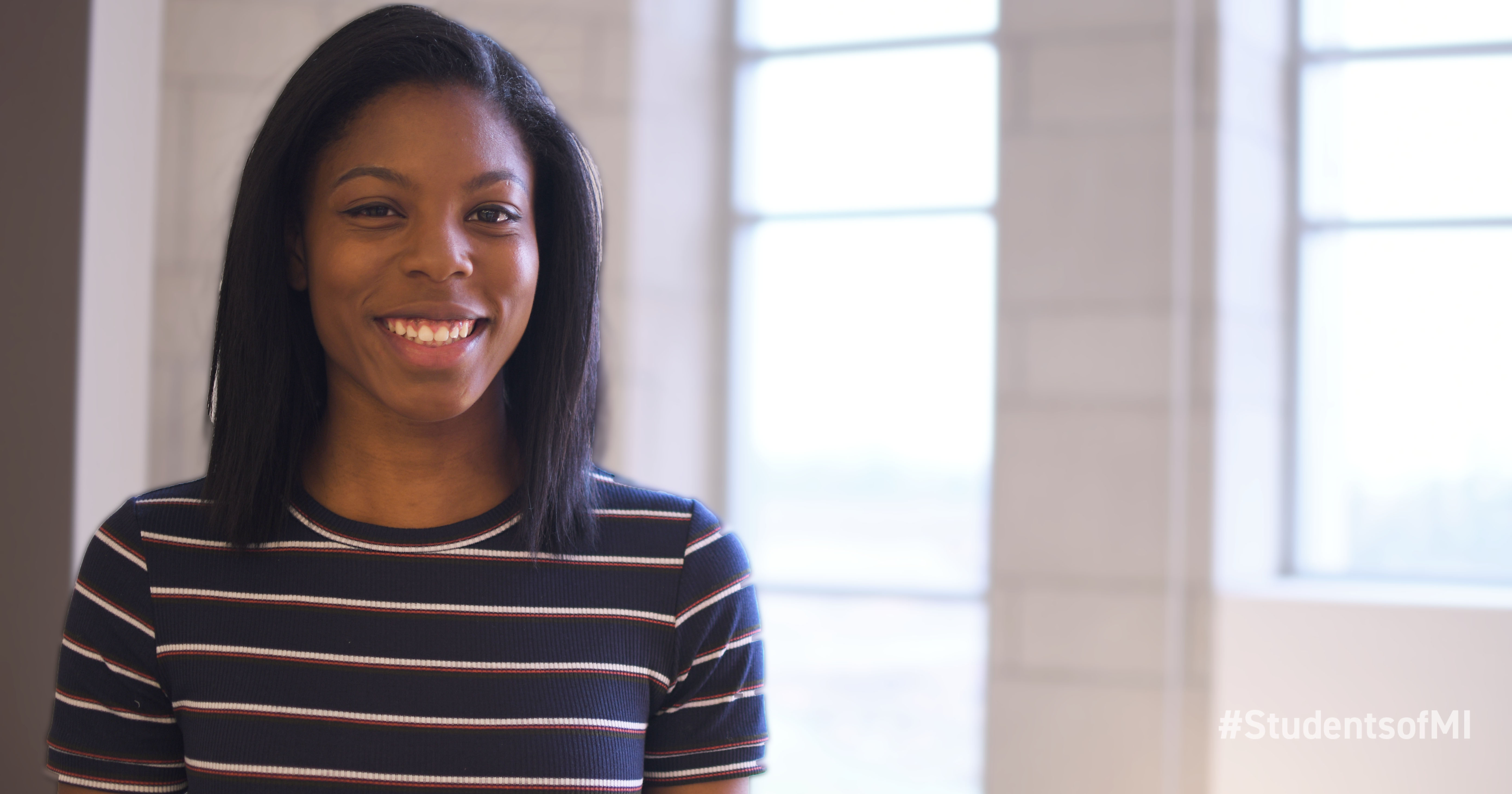 "My mom went to Saginaw Valley State University. Growing up, I was here frequently and felt like this was the last place I wanted to attend school, especially with my parents' home just ten minutes away. As soon as I went on an official college visit, I realized this campus is welcoming and people really wanted me to succeed here. That's such a nice support system when you end up in pits of doubt and wonder if you're in the right major.
I'm the oldest child, and I think it was a little hard for my mom to let go because I was so close to home. She would ask me to go to things like my brother's football game, but it was hard when I got busy with college life. The biggest struggle in the beginning was balancing my personal life and college life, especially because I wanted to do everything by myself. I wanted to be able to pay for my tuition or my car, but I realized how expensive everything could be. I'm learning how to be independent, but also knowing that I can't let my pride get in the way. I think I'm getting the hang of everything a little bit more now, but it's been a journey for me on my own.
My freshman year, I had the mindset that I was here to get a degree. Friends were nice, but that's not why I was here. I had classmates invite me to hang out, but I had a strict regimen of what I thought I needed to get done. I was waiting for something wrong to happen, and that fear kind of held me back from experiencing all college had to offer. That was a big surprise to me, because some of my high school teachers…they wanted to keep me on track but forgot to mention that we also need to live a little. Not everything is school and class. There's a lot more to college than that.
I'm an orientation leader and tour guide in addition to participating in Encore, which is a singing and dancing performance group. I'm also in an RSO called Organization of Black Unity, which is the African American student government on campus. We do our best to promote social and academic success as well as cultural awareness on campus.
Encore has always been my family at SVSU. They've been here for my excitements and for my struggles, so I truly don't know who I'd be without them. Family is such a big part of who I am, and I now consider my friends family. We are a team at Encore, and whenever one person struggles, we all struggle. We are all here to help each other out, and I have enjoyed every moment with them."
(Indigo, Music & Communications, Saginaw Valley State University)
BACK TO ALL NEWS